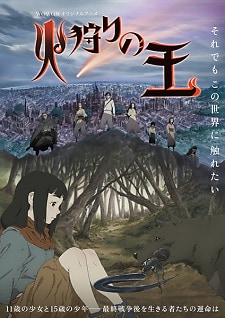 Hikari no Ou
Watch full episodes Hikari no Ou, download Hikari no Ou Indonesia subbed, Hikari no Ou Indonesia sub, download Hikari no Ou Indonesia sub, stream Hikari no Ou at Oploverz .
Hikari no Ou
Tonton streaming Hikari no Ou Indonesia Subtitle di Oploverz . Kalian juga bisa download gratis Hikari no Ou Indo Sub, jangan lupa nonton streaming online berbagai kualitas 720P 360P 240P 480P sesuai koneksi kalian untuk menghemat kuota internet, Hikari no Ou di Animeindo.Site MP4 MKV hardsub softsub subtitle Indonsia sudah terdapat di dalam video.
Synopsis Hikari no Ou
Hikari no Ou terjadi setelah perang terakhir umat manusia. Dunia diselimuti hutan hitam dan orang-orang telah terinfeksi patogen yang menyebabkan mereka terbakar di hadapan api alami. Satu-satunya sumber api yang aman dapat diperoleh dengan berburu binatang hitam, Roh Api, yang tinggal jauh di dalam hutan. Di antara para pemburu api, desas-desus tentang The King of Fire Hunters mulai menyebar baru-baru ini — seseorang yang dapat memanen bintang buatan manusia, komet milenium yang pernah berkeliaran di kehampaan. Ceritanya berkisar pada Touko, seorang gadis yang dibesarkan di desa, dan Koushi, seorang mantan murid di ibu kota. Pertemuan antara keduanya, yang seharusnya tidak bertemu, akan mengubah nasib dunia.